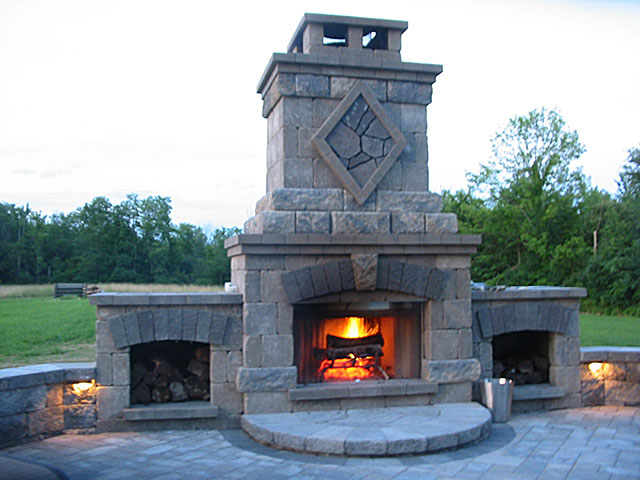 At this point in the winter season, I'm sure cabin fever has already set in for those of you who love the outdoors! Many of you are dreaming of spring and making plans for new landscape projects. In this post, I am going to discuss the all American outdoor fire pit. Just the other night my daughter had mini-marshmallows all lined up on forks in front of our wood stove. She told me she was getting ready for smores! Now if that doesn't get you thinking about summer evenings and wanting an outdoor fire feature to fulfill your child's fantasies I don't know what will!
Fire has been used for centuries for a variety of reasons including distress signals, heat, cooking, light and celebration. As we have become more pampered through the years, fire has played more of a recreational role then method of survival. I can't think of a more relaxing way to spend an evening then sitting around a bonfire with friends. Likewise, I have found more and more customers inquiring about outdoor fire features.
There are several types and styles of outdoor fire features available on the market today that can very easily be incorporated into your landscape designs. Many segmental wall block companies produce fire pit kits as well as large scale fire places that are easy to assemble. The more elaborate they are, the more expensive they are to purchase and build. With a little creativity, I encourage you to think about your own custom fire features that are unique to your landscape.
Like everything else, I feel it is important to survey my customers and find out how often they truly feel they will use a fire feature. I may be a poor salesman, but I am honest with my customers and tell them that outdoor fire features are a luxury and not a necessity. Truth be known, the majority of the fire pits we create are used only a handful of times each season. Therefore, I will not try to push an elaborate $10 – $15,000 dollar fireplace on my customers. I would rather put their money into other areas of their landscape by scaling back to a simple yet effective fire pit that matches the scale of their property. On the other hand, some customers have large outdoor living areas which merit large fireplaces and I'm certainly not going to be the one to change their minds!
There are other factors that should be considered while planning a fire feature. We have installed natural gas fire pits for some customers who just want to flick a switch and have their fire come on. Not only do they like the convenience of gas fire pits; they prevent going inside smelling like wood smoke at the end of the night. Personally that is what a fire pit is all about and I wouldn't want to cook my smores over gas but I was able to meet their needs by providing an alternative. We have also built fire pits that double as wood fired grills. By using angle iron and custom steel racks we were able slide racks into the fire pit for cooking and remove them for bonfires. Last season we had a customer who wanted a wood fired pizza oven. We ended up building a custom base and installed an oven by Chicago Brick Oven. You would be amazed what products are out there that when combined with creativity will allow you to fulfill your outdoor living dreams.
The construction methods used for these structures must also be taken into consideration. Like everything else in hardscaping, the base is critical for the long term success of a fire feature. We install a frost-free footing down to forty eight inches for large fireplaces or any fire pits that involve mortar. I recommend pouring a six inch wire reinforced slab on top of forty two inches of angular drainage stone (ASHTO 57's). This creates a uniform platform that will move as a unit should any freeze-thaw activity occurs. For small fire pits we install a twelve inch base of compacted crusher-run gravel (ASTM 2940) on top of a geotextile liner.
The type of material used for these structures must be heat resistant. I am very cautious when using natural stone. Many types of natural stone tend to break when they reach a high temperature. Be sure to incorporate fire brick (heat resistant brick) into your design to protect the veneer stone from cracking. Likewise, if using mortar for your joints, make sure you use mortars designed for high temperatures. You can purchase these materials at most masonry stores. We have had great success using segmental wall block for our pits which enable us to incorporate them into walls and patios. Once again, it is important to use a high quality block product that will not crack when exposed to heat. These details are important for the long term longevity of your structure.
Custom outdoor fire features are relatively simple to construct but require a lot of labor to produce; you would be surprised how much cutting is involved! Therefore, the more elaborate the feature, the more you will have to spend. This is why it is important to think about how much use your fire pit will actually receive. Often times, the creative small fire feature will add the most value to your landscape. After all, as long as there is fire, your children can cook their smores! Please be sure to look through our 'Outdoor Fire Pit' section of our website to see examples of features we have created.