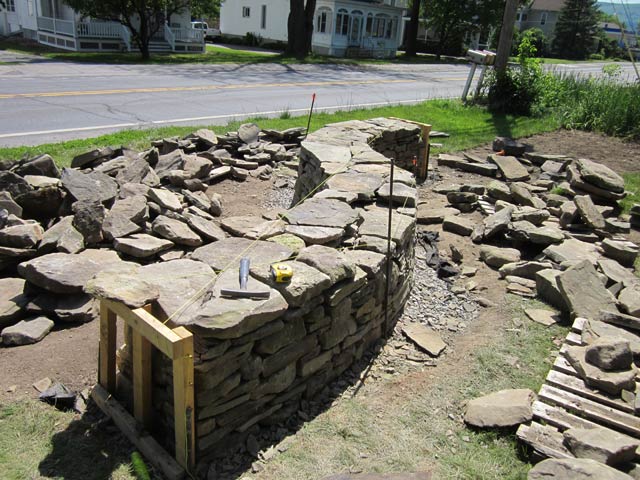 My degree may be in Ornamental Horticulture but my passion is working with natural stone. I would like to introduce you to the world of natural stone, which is seen by many as a form of art. During this entry I will establish how my interest in hardscape construction evolved and why I particularly enjoy working with natural stone.
Stone is the oldest construction material known to mankind. It is hard to deny the simple elegance of a properly constructed natural stone wall or patio. What many people don't realize is that working with natural stone can truly be a very humbling experience. Throughout high school and college I was involved in many hardscape projects as a member of various landscape crews and on my own. However, my passion and true appreciation for quality stone work developed during an eighteen month apprenticeship in the United Kingdom. During my stay in England, I was assigned a position as a laborer for a little Scotsman named Ewen and his English counterpart Simon in Gloucestershire. Ewen was a cranky little fellow who had a wicked sense of humor and a definite apprehension towards the Yank that he had to train. Simon was the opposite, tall, lanky and much more courteous and refined. Ewen's specialty was dry laid walling while Simon was the ultimate craftsman, who specialized in steps and patios. Both of these craftsmen had over thirty years of experience in natural stone construction. I was very fortunate to have the opportunity to work with these men and the rest of our crew constructing residential projects for members of the Royal family.
When I first arrived I could tell that neither Simon or Ewen really wanted me there other then to haul stone and other materials; so that is what I did for the first couple of months that I was with them. Ewen would have me sort through wall stone, identifying coins, jumpers, toppers, face stone, chinkers etc… More then anything he wanted me to deliver him prime material so he could use it to steal all of the glory. Likewise, Simon would throw me in the deep end on a seemingly impossible task and then step in half way through and take the same glory. It took over a month to earn their respect and as much as I began to despise my job at the time, I realize now how much they actually helped me. By going through the rigorous process of identifying stone and watching them work along the way, I developed a full understanding of their craft.
Following my initial boot camp as I referred to it, my boss started slowly turning me loose on stone projects. You will never have a full appreciation for how hard natural stone work is until you actually do it for a day, week or season. Not only does it wear you out physically but mentally as well. As a rookie stone mason, I was completely frustrated most of the time. I would literally spend an entire morning doing a small section of wall. Then, it would never fail that Ewen would show up and spend a few hours in the afternoon doing double or triple the amount of work with seemingly much less effort creating a much nicer product. He would pat me on the back, chuckle, and get back in his little car and go off to the pub. Likewise, I can remember working on massive bluestone patios with Simon. He would show me how to set a stone and have it lay flat, not wobble and be perfectly pitched the first time every time. He would then leave and I would spend hours setting and resetting very few stones at a very poor rate of production. I can remember thinking that I wasn't cut out for this form of hardscaping and yet here I am fifteen years later specializing in stone work.
In order to become proficient in natural stone masonry, you must be patient, persistent, and pay close attention to detail. Speed and efficiency come with experience, the key is to stick with it and not give up. Unfortunately, courses in natural stone work are not as readily available as the concrete masonry courses. However, there are several books on stone work and a couple of groups interested people should consider. The Dry Stone Walling Association (DSWA) is the United Kingdom's recognized standard for natural stone construction. The North American group is known as the Dry Stone Conservancy (DSC) and is based in Kentucky. Both of these groups can be found online and offer certification courses in stone wall masonry along the east coast. One of my personal goals is to become an Advanced Certified Stone Mason; there are only a handful of these master craftsmen with this designation in our country.
The beauty of becoming adept at natural stone masonry is that once you have developed the basic skills required, all of the same principles go into concrete masonry systems. Likewise, my small company installs thousands of square feet of segmental wall block and tumbled pavers each year as well as well as our natural stone projects. Good stone masons are rare in today's high paced society. Not many contractors are willing to give up the time and energy required to complete this difficult craft. More and more hardscape companies are installing artificial wall and paver products because they are much more affordable and efficient to install. However, with all due respect to the concrete masonry industry, I do not feel that there is an artificial material out there that compares to the real thing. Natural stone is the ultimate timeless material from both a design and longevity standpoint. I challenge anyone to take on this daunting yet rewarding craft!
Post taken from Jerry's quarterly "Hardscape Column" for Nursery Lines Magazine; Fall 2011 NYSNLA